Reach your skin's full potential
Hydrafacial™
Discover the secret to flawless skin with Hydrafacial, the game-changing treatment loved by skincare enthusiasts worldwide. Unveil a luminous complexion and say goodbye to imperfections with this revolutionary, non-invasive skincare experience.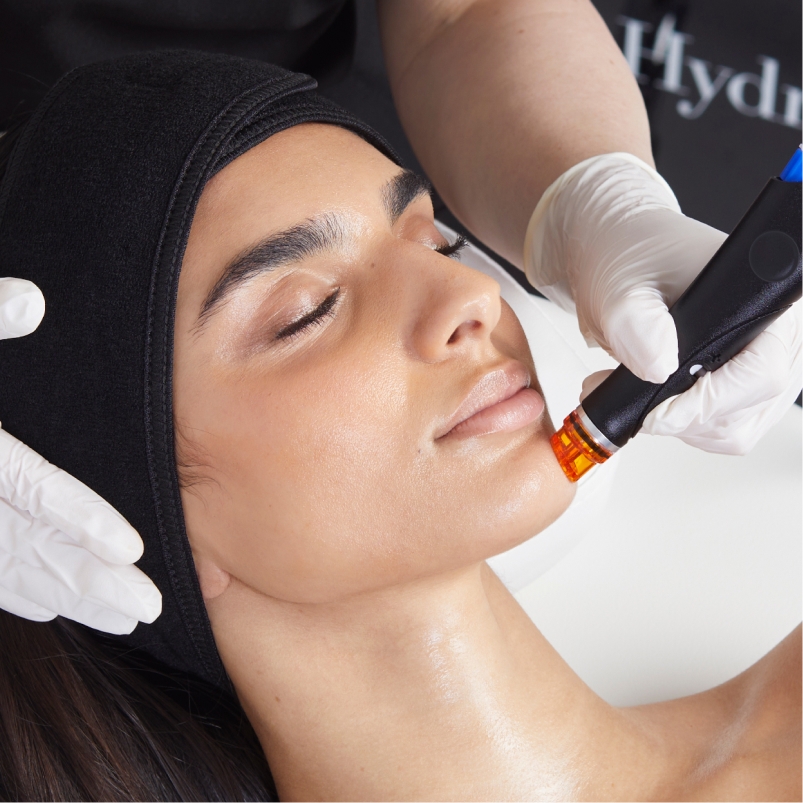 HOW IT WORKS
If you're looking for a complete skincare solution, look no further than the HydraFacial® treatment. Our advanced Vortex-Fusion system offers a comprehensive approach to cleansing, exfoliating, hydrating, and rejuvenating your skin. Our system gently removes dead skin cells, unclogs your pores, and leaves your skin looking brighter, smoother, and healthier.
But that's just the beginning. Our HydraFacial® treatment also includes a selection of medical-grade serum boosters that are carefully chosen to target your specific skin concerns. Whether you want to reduce fine lines and wrinkles, even out your skin tone, or tackle acne, we've got the right booster for you.
And for those who want even more from their HydraFacial® experience, our Deluxe & Platinum HydraFacials® take it up a notch. The LightStim® LED therapy stimulates collagen production and promotes healing, while the Platinum HydraFacials® include lymphatic drainage to boost overall skin health.
Whether you're new to skincare or you're a seasoned pro, the HydraFacial® treatment is the ultimate way to take your skin to the next level. Trust us – you won't regret it.
Hydration
Can help to hydrate the skin through the use of hydrating serums and customized cocktails.
Congestion
Can help to unclog pores and remove excess oil.
Hyperpigmentation
Can help to reduce the appearance of hyperpigmentation by exfoliating the skin and through the use of targeted boosters.
Lines & Wrinkles
Can help reduce the appearance of fine lines and wrinkles by hydrating the skin and promoting collagen production.
Before
Avoid retinols, exfoliants, acids (such as glycolic acid) before getting this treatment.
Right after
You should be glowing & hydrated. You may experience a little redness, but that should go away in less than 30 minutes. Try to stay away from makeup for the rest of the day and avoid excessive sun exposure (wear that SPF).
1 month later
With monthly treatments, you'll start to notice a real difference in your skin. Exfoliating the skin every 30 days, helps to reveal the new healthy skin beneath the surface revealing a brighter complexion.