Radio Frequency and Body Enzyme Treatment
Have you reached your goal weight but are now left with loose sagging skin? This treatment is for you! During a radio frequency (RF) skin tightening procedure, heat is used to encourage the production of new collagen and elastin. RF skin tightening works by targeting the tissue beneath the outer layer of your skin, or epidermis, with radio frequency energy. This energy generates heat, resulting in new collagen production. This procedure also triggers fibroplasia, the process in which the body forms new fibrous tissue and stimulates the production of collagen, causing collagen fibers to become shorter and more tense. At the same time, the molecules that make up collagen are left undamaged. Skin elasticity increases and loose, sagging skin is tightened. The renewed production of these components helps to eliminate wrinkles and fine lines, and tightens skin.
What makes this treatment effective?
Our clients who are really looking to transform the appearance of their skin do multiple treatments at least once a week in order to encourage drastic results. Additionally, this treatment does not solely rely on Radio frequency technology to promote skin tightening. After your radio frequency session the next step includes using DMK's Enzyme Therapy Body Masque to promote further skin tightening.
How does DMK's Body Enzyme Therapy Work?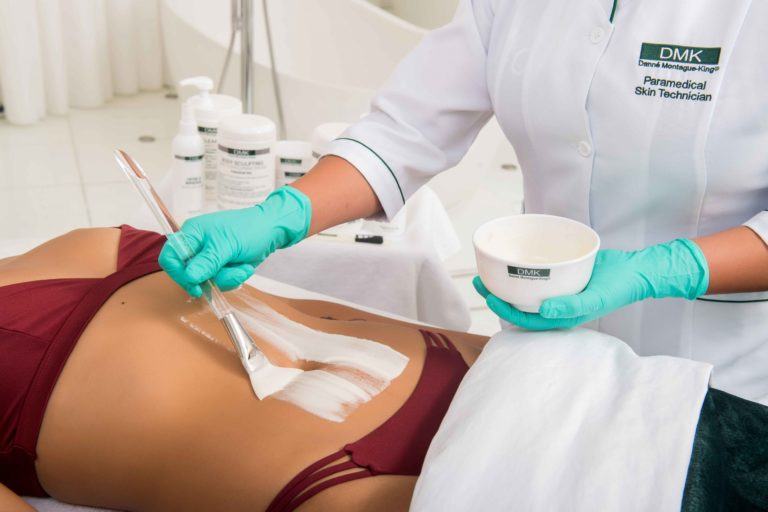 DMK's signature Enzyme Therapy Treatment is specifically designed to encourage the bodies skin to perform at its best. This unique solution is used to help revise cellulite, fluid retention, dry skin, crepe like loose skin, poor circulation, ingrown hairs, hyper-pigmentation, scarring, stretch marks and acne. If you have lost a lot of weight but still carry loose skin, a tailored program using DMK's Body Enzyme Therapy can help to tighten and snap the skin back into place!
Not sure where to start?
Book a Wellness Assessment
Have a lot going on and multiple goals and not sure where to start? Sit with a Health Professional to create a specialized wellness program tailored to your specific health concerns.
Learn more about financing
CareCredit Accepted Here
CareCredit is an amazing tool that is used by many of our clients. The financial flexibility the offer really let clients place their health as a priority.